basic computer
Course
About DCA

DCA is usally 6 months, but could be a year depending on the course curriculum and institution. It has been designed for aspirants who want to enhance their knowledge in the computer application.

About DTP

DTP is the creation of documents using layout skill on a personal computer. DTP software is used to arrange text and graphics into professional looking publication which can then be printed out.

About Tally

Tally is an accounting program that lets you track and manage all of your accounts, sales, debts, and everything else related to the running of your business.
Move Forward
With Your Education
With the growing demand of computers and the role it plays in our life, more and more skilled professionals are required to take of the finer points.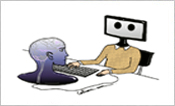 With new innovations in the arean there is a growing demand for computer professionals with a sound understanding of basic computer applications in the business covering key programming languages, data base managment, system analysis, computer software development in specific applications such as studies, financial management and long range planning.
Computer are mangnificent tools for the realization of our dreams, but no machine can replace the human spark of spirit, compassion, love and understanding.